Your management tools can interface with Allmybanks

Allmybanks interfaces with your existing information system using two different modules: FTP-Bank and Accounting Interface.
Automation of flows using FTP-Bank
With FTP-Bank, you automate the two-way file exchange between your management programs and Allmybanks, regardless of your information system's environment.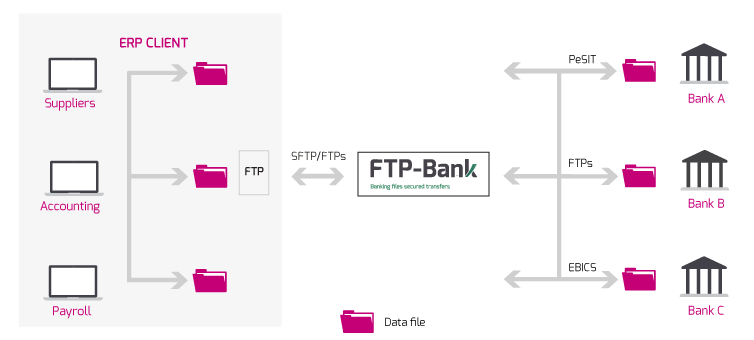 Reliability and security of payments with FTP-Bank
Thanks to FTP-Bank, by reducing human intervention, you make your processing more reliable and your payments more secure, all the while retaining control. FTP-Bank allows you to:
Send your order remittances directly from your management software:

Standardised banking remittance files (SWIFT MT, SEPA, ISO20022, national formats, etc.)
Accounting entries to be integrated into the treasury (forecasts) or accounting reconciliation modules
Currency rate and market rate
Integrate your account statements into your IT chains automatically (e.g. your accounting software or ERP, etc.) for processing:

Transaction statements
Unpaid reports
Payment Status Reports
Generation of accounting entries with the accounting interface
The accounting interface module prevents duplicate entries in your accounting process. Allmybanks therefore allows you to:
Generate your accounting entries and their counterparts (including VAT or other taxes), based on:

Your account statements
The Allmybanks treasury modules (intercompany balancing, capital gains on mutual funds, and interest and bank charges)
Export your accounting entries according to the format required by your accounting software (in text formats with separators or fixed lengths)
Cancel your accounting entries if necessary (generates a cancellation file)
Accounting entries can be exported by date range or transaction type.
The entries generated are marked within a data export batch to prevent the integrated data from being sent multiple times.
Compatible with all operating systems
Automates accounting tasks and sending remittances to the banks
Duplicate entries deleted